About Hume Blues Club
Welcome to the about page of Hume Blues Club Inc. We are a not-for-profit organization established in 2014 to cater to the need for a blues club in the Northern suburbs of Victoria. The lack of blues venues in this area led us to create a space where local blues enthusiasts and musicians can enjoy live blues music without having to travel far across town.
Our club is located at 27 Ballantyne St, Thornbury, which is also the home of the Thornbury Bowls Club. We organize weekly Thursday evening blues jams where musicians and music lovers can come together to play and listen to some great blues music.
Our aim is to promote and preserve the blues music genre and its culture by providing a platform for emerging and established musicians to showcase their talent. We are a community-driven club and welcome everyone to join us in celebrating the spirit of the blues.
As a not-for-profit organization, we rely on the support of our patrons and community to keep our club running. We encourage everyone to come along on Thursday Nights, and support us in our mission of keeping the blues alive in the Northern suburbs of Victoria.
Thank you for visiting our website, and we hope to see you soon at one of our weekly blues jams.
---
Our Vision
To provide an intimate, upbeat and cosy atmosphere to enjoy the blues.
To provide a framework for a mutually beneficial network between new and experienced musicians.
To encourage and mentor budding musicians of all ages.
A Hangout For Blues Music Lovers...
At Hume Blues Club @ The Shake Shack, we strive to create an authentic and welcoming atmosphere for blues music lovers to enjoy live music and connect with like-minded individuals. Our jam nights provide a platform for emerging and established blues musicians to showcase their talent and engage with the community.
By promoting a positive and inclusive atmosphere, the club can continue to attract blues music lovers and musicians who share a passion for authentic live blues music and a desire to connect with others in a fun and chilled out setting.
So come on down and enjoy the music, the company, and the vibe at the Hume Blues Club @ The Shake Shack!
Absolutely, it's important to maintain a safe and respectful environment for everyone who attends the Hume Blues Club @ The Shake Shack. Any abusive or disruptive behavior will not be tolerated, and troublemakers will not be welcome at the club.

If you are interested in supporting us or want to learn more about our club and events, please visit us or browse our website, look us up on social media or get in touch with us via email or phone.
Thank you for considering Hume Blues Club @ The Shake Shack as your go-to destination for live blues music in Melbourne.
We look forward to seeing you soon!
Invitation to Blues Musicians...
Any blues musicians wishing to play at one of our jams are always welcome, bring your friends as well. It is our intention that our jams format ensures as many musicians as possible get good representation on stage, with a good mix/match of both experienced and novice musicians, which will give confidence to the novices and also provide quality music the whole night through.
Help Us Grow
Visit our blues jam nights page to see what's upcoming, or sign up below to our newsletter to get updates.
Spread the word! Bring your friends and family along to one of our blues nights.
Meet the Committee Members and Crew
Our Story -Founded 2014
Barry "Baz" Maxwell - President
MC & Bookings Manager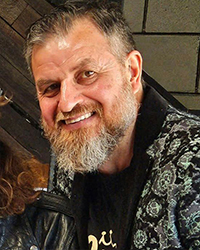 Barry fell in love with the Blues in the early 80's after growing up listening to music from Led Zeppelin, Pink Floyd and Eric Clapton. He traced the music back to the source, discovering Robert Johnson, John Lee Hooker, Muddy Waters etc. Once found, there was no turning back. This passion for Blues led to Barry producing and presenting his Radio show, Blues On The Hill, dedicated to 'Keeping the blues alive', spinning the latest and greatest from around the globe with one hour dedicated to new Australian blues.
Barry is very excited to be involved with the Hume Blues Club and promises you will hear only the best new blues going around. He is co-founder and President of Hume Clues Club where he also books artists. He also MC's for special Blues events around Melbourne, Blues Music Victoria (as President) which brings together venues, festivals, clubs and the Blues industry.
Some of his activities and skills...
Blues Radio Presenter for:Blues On The Hill Blues Radio, Sunbury Radio, Caldonia's Crossroad Radio: and Rock Radio UK
President of Blues Music Victoria
Winner MBAS Allan Stafford Award for services to Blues Music 2015
International Blues Challenge Judge Memphis 2016/2019
Reporter for Living Blues Magazine (USA) Charts
Reporter for Australian Blues and Roots Charts
Blues Events, Festival MC, Stage Manager
---
"Smokin" Sam Salzone
Harmonica Player & Vocalist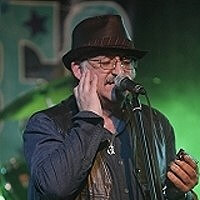 Smokin Sam Salzone is an Italian-born Melbourne-based blues singer and harmonica player who is also at home playing rock and funk. With his harmonica in hand and his innate ability to woo his audience with his positively infectious vibe, Smokin Sam is one mean son-of-a-gun on-stage. Sam's music is influenced by a wide range of artists, including J.L Hooker, Chain, Carson, Peter Green of Fleetwood Mac, Junior Wells, Willie Dixon, Frank Zappa and Captain Beefheart, among others. As a blues singer and harmonica player, he has incorporated elements of their styles into his own unique sound, which has made him a beloved figure in the Melbourne music scene.
Hume Blues Club is the brainchild of Smokin Sam, who was frustrated with the lack of blues music venues in his local area, and decided to form his own blues club. To help him create this dream, he contacted Barry Maxwell, who was very enthusiastic about the idea. Together, they recruited a great hard-working team, and Hume Blues Club was born. The club has become a popular destination for blues fans in Melbourne, featuring performances by local and international artists.
---
Committee Members
Barry Maxwell (President)
Smokin Sam Salzone ( Social Media & Promotions & Web101 Group website)
Anne Breen (Secretary, In-House Co-ordinator & Fundraiser)
Harold Bradbury-Flint (Treasurer)
Paul Brandon (Sound set up & sound Engineer)
Paul Glover (Sound set up)
---
Club Helpers Volunteers
Lenny Hodgkins, (Sound Engineer)
Christine Manetta, Bruce Maddigan & Bill Ruffle Sound set up & help Engineers)
Bruce Maddigan (Jam Co-ordinator)
Natalie Feillafe (Instagram Co-ordinator)

---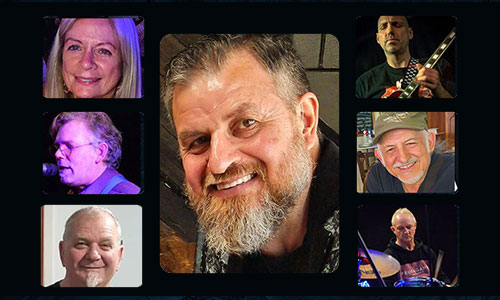 HBC Committee.... Baz, Sam, Harold, Anne, Paul B, Paul G.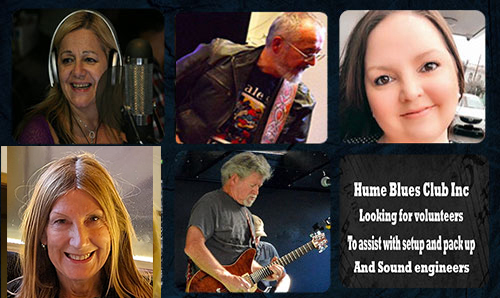 Club Volunteers -Nat, Bill, Christine, Bruce, Lenny
"One of the beautiful things about music
is it gives you an opportunity to learn
how to tell the truth,
and it's a life-long learning process."
~ Beth Hart