Blues Music Quotes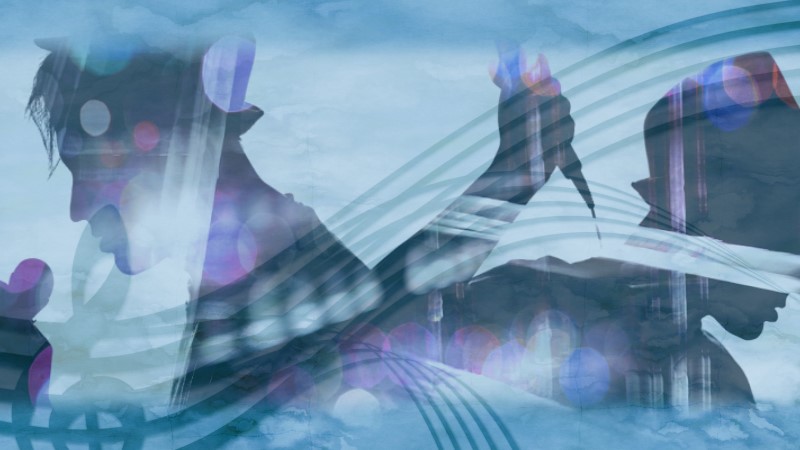 Enjoy our collection of quotes about Blues music by famous blues musicians, singers and personalities which capture the essence of the Blues Music and allow the Blues to open the door to your soul.
"The blues tells a story.
Every line
of the blues
has a meaning."


~ John Lee Hooker

blues singer, songwriter, guitarist (1917–2001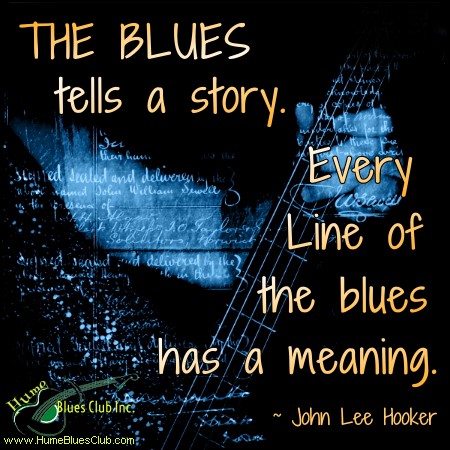 "The blues echoes right through
into soul, R&B and hip hop.
It's part of the make-up of modern music.
You can't turn your back on the blues."

~ Ronnie Wood

The Rolling Stones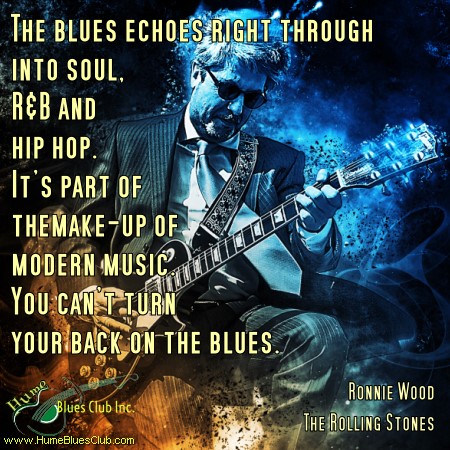 "There's no way in the world I can feel the same blues the way I used to. When I play in Chicago, I'm playing up-to-date, not the blues I was born with. People should hear the pure blues - the blues we used to have when we had no money."

~ Muddy Waters (1913–1983)

American blues singer-songwriter and musician
"The blues are the roots and the other musics are the fruits. It's better keeping the roots alive, because it means better fruits from now on. The blues are the roots of all American music. As long as American music survives, so will the blues."

~ Willie Dixon (1915–1992)

American blues musician, vocalist, songwriter, arranger, record producer
"They hear it come out, but they don't know how it got there. They don't understand that's life's way of talking. You don't sing to feel better. You sing 'cause that's a way of understanding life."

~ Ma Rainey (1882 or 1886–1939)

One of the earliest African-American professional blues singers and one of the first generation of blues singers to record. She was billed as the 'Mother of the Blues'
"Blues and soul and jazz music
has so much pain,
so much beauty of
raw emotion and passion."

~ Christina Aguilera

Singer, songwriter, actress
"The blues is celebration,
because when you take sorrow
and turn it into music,
you transform it."

~ Odetta Holmes

Folk, blues, spirituals guitarist, lyricist (1930–2008)
"Music is your own experience, your own thoughts, your wisdom. If you don't live it, it won't come out of your horn. They teach you there's a boundary line to music. But, man, there's no boundary line to art."

~ Charlie Parker (1920–1955)

American jazz saxophonist, composer
"The blues was like that problem child that you may have had in the family. You was a little bit ashamed to let anybody see him, but you loved him. You just didn't know how other people would take it."

~ B.B. King (1925–2015)

American blues singer-songwriter, guitarist, record producer
"Everything comes out in blues music... joy, pain, struggle. Blues is affirmation with absolute elegance. It's about a man and a woman. So the pain and the struggle in the blues is that universal pain that comes from having your heart broken. Most blues songs are not about social statements."

~ Wynton Marsalis

American jazz/dixieland virtuoso trumpeter, composer
"I don't think I ever sing
the same way twice.
The blues is sort of
a mixed-up thing.
You just have to feel it.
Anything I do sing
is part of my life."

~ Billie Holiday (1915–1959)

Singer, songwriter, actress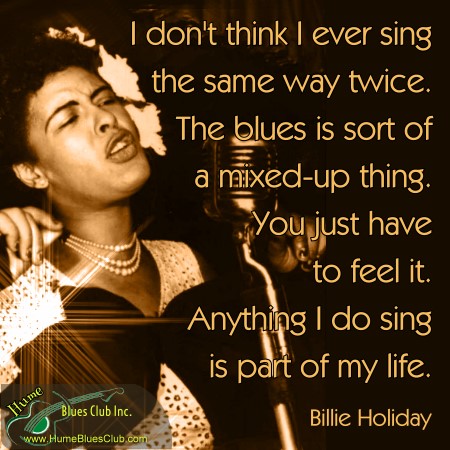 "The blues is a
mighty long road.
Or it could be a river,
one that twists and turns
and flows into a sea
of limitless
musical potential."

~ Billy Gibbons

American rock & blues musician, singer, songwriter, record producer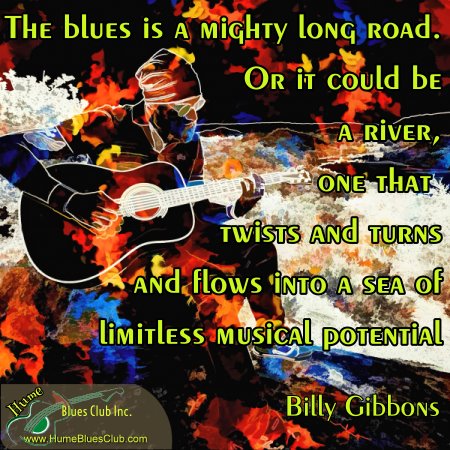 "I dabbled in things like Howlin' Wolf, Cream and Led Zeppelin, but when I heard Son House and Robert Johnson, it blew my mind. It was something I'd been missing my whole life.

That music made me discard everything else and just get down to the soul and honesty of the blues."

~ Jack White

American singer, songwriter, multi-instrumentalist, producer
"I said if you want to be Keith Richards, you've got to listen to Bo Diddley and Chuck Berry. Then I thought, 'What did Bo Diddley and Chuck Berry listen to?' I said, 'They listened to Howlin' Wolf and Muddy Waters.' Well who'd they listen to? They listened to Robert Johnson. I said, 'Ok, we'll start with that.'"

~ George Thorogood

American rock musician, singer songwriter
"When you ain't got no money, you've got the Blues. When you ain't got no money to pay your house rent, you've still got the Blues. A lot of people holler 'I don't like no Blues', but when you ain't got no money, and you can't pay your house rent, and can't buy no food, you damn sure got the Blues!"

~ Howlin' Wolf

Chicago blues singer, guitarist, harmonica player
"When I'm singing
the blues,
I'm singing
life."


~ Etta James (1938–2012)

American singer of blues, R&B, soul, rock'n'roll, jazz gospel
"Listen to the lyrics - we're singing about everyday life... rich people trying to keep money, poor people trying to get it, and everyone having trouble with their husband or wife!"

~ Buddy Guy

American blues & Chicago blues guitarist and singer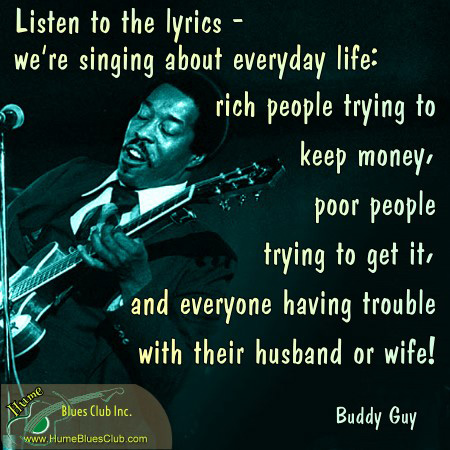 "The blues is a feeling, you can't get it out of no book. You can't write the blues on a piece of paper, you just feel the blues."

~ John Lee Hooker (1917–2001)

American blues singer, songwriter, guitarist
"The blues is the foundation, and it's got to carry the top. The other part of the scene - the rock'n'roll and the jazz - are the walls of the blues."

~ Luther Allison (1939–1997)

American blues & Chicago Blues guitarist
"Listen, the story of the United States is this...
One kid, without anything, walks out of his house, down the road with nothing but a guitar, and conquers the world. And we've done that again and again and again – Johnny Cash, Hank Williams, Bob Dylan, Bruce Springsteen, Jimmy Rogers, Howlin' Wolf, Muddy Waters."

~ T-Bone Burnett

American record producer, roots rock musician, songwriter
"Every bad situation
is a blues song
waiting to happen.


~ Amy Winehouse (1983-2011)

English singer and songwriter, soul, rhythm and blues, jazz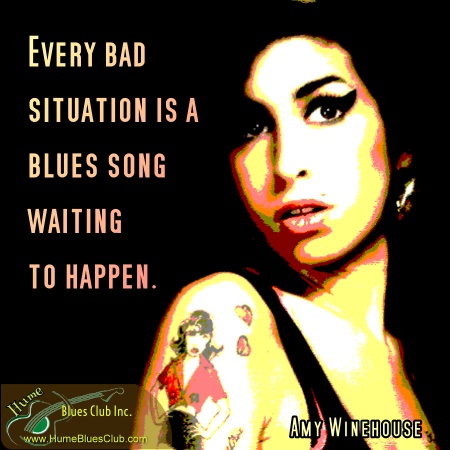 "The blues are what I've turned to,
what has given me inspiration
and relief in all the trials of my life."

~ Eric Clapton

English rock & blues guitarist, singer, songwriter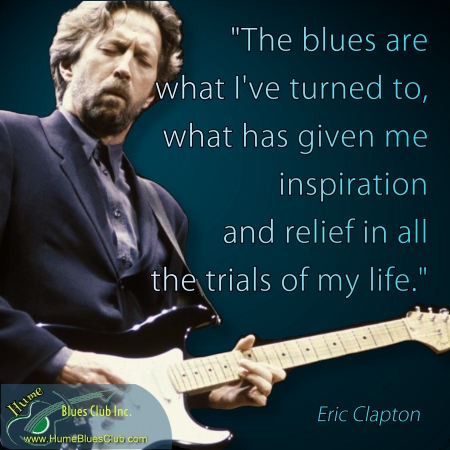 Watch this space for more upcoming quotes about blues music.
---
Published: Sep 21, 2019 | Updated: Sep 25, 2019